With families being holed up at home during Coronavirus Pandemic can you imagine the plight of parents with small children? Having kids in your home, them running in the house and watching them grow is truly a bliss but who would have  thought that watching them grow would also involve watching the grow during quarantine. I mean thousands of families are quarantined with their children and children are not like adults. They might feel scary and get easily bored. Here,comes the tricky part and these little kids could be naughty,destructive or throw tantrums around and you really don't know what to do and most importantly where to take them to distract them neither can you shop to tempt them and teach to behave. There is simply no motivation for them to behave nice. No friends to play with,no schools to keep them leashed,no neighbours to keep them entertained. So what do these young boys and girls do during quarantaine…they play,they break things,they shout,they create mess and many things more. I have compiled several hilarious pictures of kids to give you,the people without children, a glimpse of how people with kids are surviving quarantine during the Global Pandemic. Here take a look and let me know
We were just playing together and the younger one did it
I was bored..you see
Mom said no outside food so we helped ourselves
Now that I am home, I realise how much I love daddy
Just a little wall art now that my creche is closed
No! Kids don't suck. They are sweet little angel
My teacher asked us to do some art and craft work at home during Quarantine.
No explanation given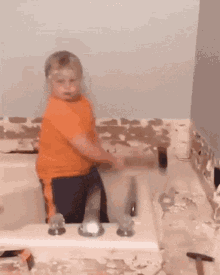 Those 5 minutes when you are happy about the peace in the house during Quarantine
I miss my friends.
When you asked him to take care of the younger sister and share the responsibilities during lockdown
When you refused to play with her
I always thought her kindergarten teacher is lazy but now I feel she is an angel
now that I have the opportunity to give them all my time. I will spend time with my children
Lockdown has given me a wonderful chance to spend time with my kids and share responsibilities with wife
Just another day of work from home
No I am not a bad parent. No my kids are not the naughtiest.  No, children are not creepy little scary monster and you still can plan a baby. No kids are not the worst they are blessings.Just another day of parenting… There is nothing like having kids of your own. It is just a phase and it will pass………………….(sigh!) 

This is how parents survive! Cheers! 
10 movies to watch with your kids this Christmas
10 Bollywood star kids who are next big things
Why is it okay to cut toxic family members out of your life?